In 1999 the small Scottish agency, Yellow M, took the king's shilling…but produced my all time favourite political poster.
A poster that for me sums up the legacy of one man.
It's this one.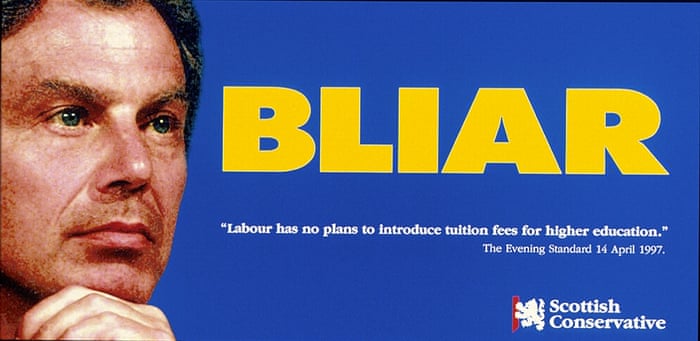 But Tony's one big lie, which now defines him, pales into insignificance as it was committed, he argues  (wrongly, and unforgivably, in my opinion) in what he says was the nation's interest.
Twenty years later we can revisit this poster but in a far less oblique way because, dear voters, if you vote for charming, scruffy, chuckly old BoJo, you are voting for a liar.
An outright fibber of the first order.
A Billy Liar in fact.  A man barely capable of telling the truth.
A man who will do ANYTHING to protect his chums, his fortune, their fortunes.
A man with no integrity.
A serial adulterer.  (Who therefore lies to his closest family.)
This man is not fit to be elected as our Prime Minister and he wasn't elected to that position by the British Public.
If you do vote for a liar.  A barefaced one. We will all have to suffer the consequences.
The 1999 poster, without the aid of Photoshop, can be updated accordingly.