It's a real honour to have David contribute to my blog.
David is Scotland's greatest living playwright (and dramaturg).
You'll know him perhaps as Artistic Director of The Lyceum where he has written business-changing productions such as The Suppliant Women (an adaptation of Aeschylus' classic and a personal favourite of mine. It truly was an epic and very moving, very feminist experience, so much so that I saw it three times), Touching the Void, Solaris and Local Hero.
He also wrote two more of my all time favourite plays; The Strange Undoing of Prudentia Hart and Dunsinane.
As if that isn't enough, how about Lanark, Midsummer, Yellow Moon (I saw a lovely student production of this in a freezing cold Bedlam Theatre) and Europe, the show that initially made his name.
Perhaps his biggest commercial success has been his much lauded West End production of Charlie and the Chocolate Factory.
He's a great voice in the Independence debate. And he's a runner.
I mean £ for £ he's one of Scotland's greatest creative talents with no discernible style. Look at his full list of productions on Wikipedia and you won't say "Oh that's a Davy Greig" because his output is so creatively diverse.
And when you read this you won't be disappointed because he doesn't just tell us what he likes he tells us why and shines really interesting insight onto all of his taste.
There's a pretty shocking revelation in it too about his recent health that knocked me off my feet but I'll let you read about it for yourself.
Thanks David. I am not worthy to be sharing this but I am very grateful.
My favourite author or book
PG Wodehouse is the writer to whom I return and return.
The book I'm reading
The Lost Plays of Greek Tragedy by Matthew Wright, a two volume account of all that we know of the lost plays and authors of ancient Greek Tragedy. For example Euripides wrote over 100 plays and we only have 17 of them. And there were dozens of known, celebrated authors apart from the big three of Sophocles, Euripides and Aeschylus. This magisterial book collects everything we know about the lost work.
The book I wish I had written
This is an odd concept for me. I feel like if I wish I'd written a book then I would have written it. When I like a book, it's in great part because I could never have written it. I suppose I will answer this by saying the form in which I feel least skilled is poetry, and I wish I could write it as well as the poets I admire whether that be Sappho or Alice Oswald, Don Paterson or Kathleen Jamie, Betjeman or Brecht. A book of really good poetry is the book I wish I had written.
The book I couldn't finish
There are many but Infinite Jest by David Foster Wallace is probably the one which comes to mind. I found it fascinating, funny, engaging… but it's also huge. It's just too much. Too much. One day I'll go back to it.
The book I'm ashamed I haven't read
I'm not a great reader of contemporary novels. It's not deliberate. I find my time is filled up with plays, films, poetry, twitter, and I read a lot of non-fiction. When I get a chance at a novel I tend to pick a classic. I rarely get round to a new novel. I'm rather ashamed of this, in general, and specifically I would say Elena Ferrante's Neapolitan Novels. They seem like a deep and powerful exploration of women's lives and friendships that could absorb me for a good while… so why haven't I dived in yet!
My favourite film
Hunt for the Wilderpeople by Taiko Waititi
My favourite play
This is a very difficult one for me. Theatre and plays are my life. You've asked me four questions about books but only one on plays! And I have to choose only one. And it's unclear whether it's a performance of a play, or a script? So many flaws in this question! Nevertheless, them's the rules, I suppose. In that case I will choose The Present by Andrew Upton adapted from Chekhov's play Platonov. I saw it on Broadway directed by John Crowley with Cate Blanchett playing the lead, Anna Petrovna, who is turning 40 and bored of life, and staging a party. The play revolves around the eponymous Platonov with whom she is in love, as are most of the women in the play, and who has never been able to commit to her or admit his true feelings. Out of this simple country house palaver Chekhov weaves a desperate aching gouging out of the male heart, of love, of despair, and of the comedy of our own foolishness in the face of our desire. The original play is long. The magnificent Australian dramatist Andrew Upton did a version which adapts the play to 1980's Russia and puts it in a simple contemporary English idiom which lets the play breathe beautifully.
John Crowley's production was absolutely beautiful, delicate and detailed naturalism.
Cate Blanchett was incandescent.
When the lights came down I was in tears and couldn't move for a full ten minutes.
My favourite podcast
There are so many, I like Talking Politics with David Runciman, I like The Archers podcast Dum Ti Dum, I like Blocked and Reported but recently I've been obsessed with QAnonAnonymous, a long running investigative series which follows the QAnon conspiracy theory. I picked up on it about a year ago, just after lockdown, and it became a bible for understanding the craziness which then beset America. It's still the best primer I know for the American right.
The box set I'm hooked on
Do we do box sets anymore? I have a full collection of Muppet Show videos, I adore them, and when I saw that Disney Plus had them I began revisiting them on streaming. I can never get enough of them. Check out the episode from the first series with Kris Kristofferson singing Help Me Make It Through The Night with Miss Piggy.
My favourite TV series
Upright by Tim Minchin.
My favourite piece of music
Ay ay ay! Four questions about books but one about music!! It's like the theatre question all over again. At least you get eight in desert island discs.
Since I was fifteen my Desert Island Disc, that I would save from the waves, has been the cover version of The Velvet Underground's 'Pale Blue Eyes' by Paul Quinn and Edwyn Collins from 1984.
My favourite dance performance
I was lucky enough to see 'I Am Curious Orange' by Michael Clarke with live music by The Fall at The Royal Opera House. It was glorious. The re-staging of the Battle of the Boyne by bum baring boy dancers in Rangers and Celtic shirts as Mark E Smith scowled and stomped across the stage…
The Last film/music/book that made me cry
Peanut Butter Falcon, a rather beautiful movie from 2019 by Tyler Nillson and Michael Shwartz in which Zack Gottsagen plays a Down Syndrome man who escapes from a home to pursue his dream of becoming a wrestler, and hooks up with a down and out fisherman on the run played by Shia La Beouf.
The film, like Hunt for The Wilderpeople & Upright, explores my favourite movie trope where a gruff emotionally closed person carrying grief is paired with a vulnerable emotionally open person and they are cast loose in the wilderness.
These stories always make me cry.
I should write one one day.
The lyric I wish I'd written
So so so many from so so so many songs but I think, in the end, I have to defer to Bob Dylan who has come up with so many, so consistently extraordinary lyrics.
Probably my favourite is…
'Oh the streets of Rome are filled with rubble
Ancient footsteps everywhere
You can almost think you're seeing double
On a cold dark night on the Spanish Stair.
Got to hurry on back to my hotel room
Where I got me a date with a pretty little girl from Greece.
She promised she'd be there with me
When I paint my masterpiece.
Oh the hours we'd spend, inside the Coliseum
Dodging lions and wasting time
Oh those mighty kings of the jungle
I can hardly stand to see 'em
It sure has been a long hard climb.
Train wheels running through the back of my memory
When I ran on the hilltop following a pack of wild geese
Someday, everything's gonna sound like a raphsody
When I paint my masterpiece.'
From 'When I Paint My Masterpiece' by Bob Dylan
It catches so beautifully the sense of playfulness and connection I felt, as a young artist, that the best is yet to come, that the great work is just around the corner.
The song that saved me
Dream Operator by The Talking Heads from True Stories.
I had a stroke last summer. I think running a theatre in a pandemic just got to me and my brain popped. Anyway, I'm fortunate it was a minor stroke and I was able to recover from the major physical effects quite quickly. But the mental effects were hard. I have found being an artist deprived of my medium, a theatre maker deprived of an audience, very hard on the soul. The wounds to The Lyceum of redundancy and closure have sometimes felt unbearable.
I am a runner, I like the trails and hills, and I was worried that the stroke would take that away from me. Fortunately I've been able to get myself together and, although a bit slower, I'm back running in the hills now.
Spring is here and the other day I was running in some back country. I was cresting a hill, the sun was out, and I saw a glorious Scottish landscape of loch and mountain laid out before me and this song came on.
It spoke directly to me, as songs sometimes do.
It was clearly a song in which an old artist remembers themselves being young and hoping one day to make art. The old artist says to the young one… 'don't worry, I'm here from the future to tell you, you become an artist in the end.'
In one line David Byrne sings…
'Every dream tells it all, and this is your story, you dreamed me a heart, you're the dream operator.'
That reminded me that the heart of an artist is a child.
And that an artist is just that, 'a dream operator' and that's also as good a definition of an artistic director as I've ever heard.
I found myself crying as I ran.
The song released the responsibility and grief of the pandemic and returned me to the child artist who just wants to celebrate, understand and dream the world.
The instrument I play
I play the guitar well enough to strum along to things, and I have an extensive collection of guitars, ukuleles and banjos which I enjoy playing. The stroke rather fucked up my left hand fingering so I'm even worse than I used to be. I'm no musician.
Recently I have started taking singing lessons. I am greatly enjoying discovering my voice as an instrument.
The instrument I wish I'd learned
As a kid I learned Cello. I loved the sound of it, the feel of it. I still love Cello music. Jaqueline Du Pre doing Bach is some of my favourite music ever. I wish I'd kept it up.
If I could own one painting it would be
One of Rothko's Red and Black paintings.
The music that cheers me up
Ah, there IS another music question. Phew!
I am always cheered up by 'Got Soul' by Valerie June and I challenge you not to be as well.
The place I feel happiest
My family's cottage on Rannoch Moor.
My guiltiest cultural pleasure
I genuinely don't believe in guilt over pleasure.
I like reading massive volumes of history – Anthony Beevor, Robert Caro, etc… Sometimes that feels like an old white man thing to be doing. It's not that I don't seek out diversity in history, I do. But I'm a bit Alan Partridge about military history. So maybe that?
I'm having a fantasy dinner party, I'll invite these artists and authors
I don't like dinner parties. I really enjoy one on one encounters best. I would invite Lee Miller to dinner. If she was unavailable, I would invite Aeschylus.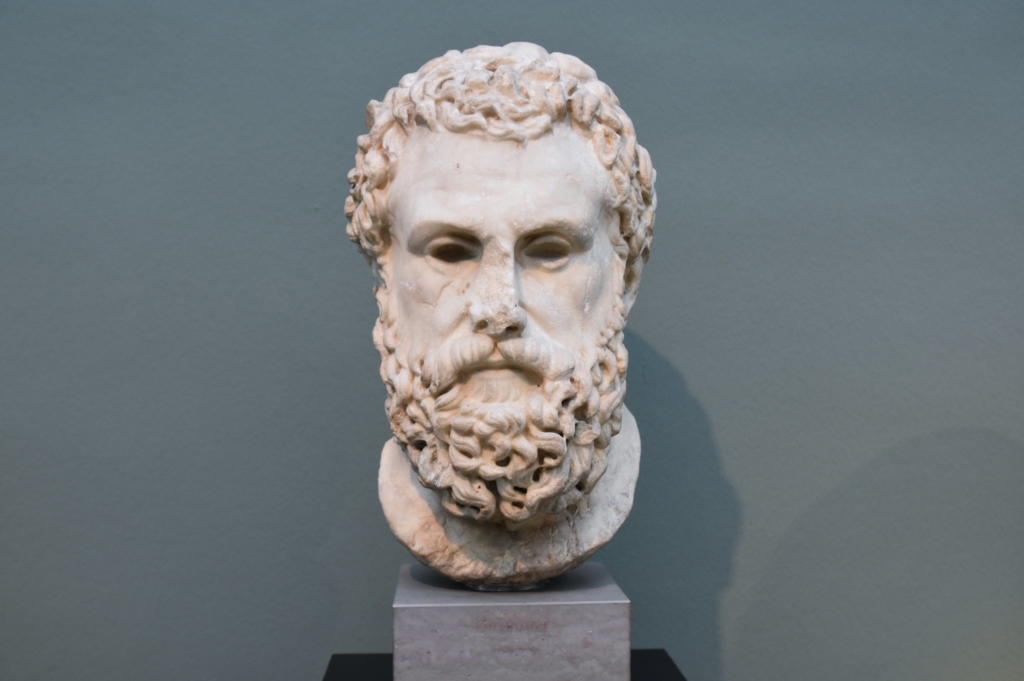 And I'll put on this music
Lee Miller I would play Beyonce's Lemonade. I think she'd like that. Aeschylus would be fascinated by Hip Hop – he was a composer as well as a poet and he wrote in rhythmic speech – so I'd play him some of the best Hip Hop I know from Public Enemy, to Dr Dre to Drake to Kanye.