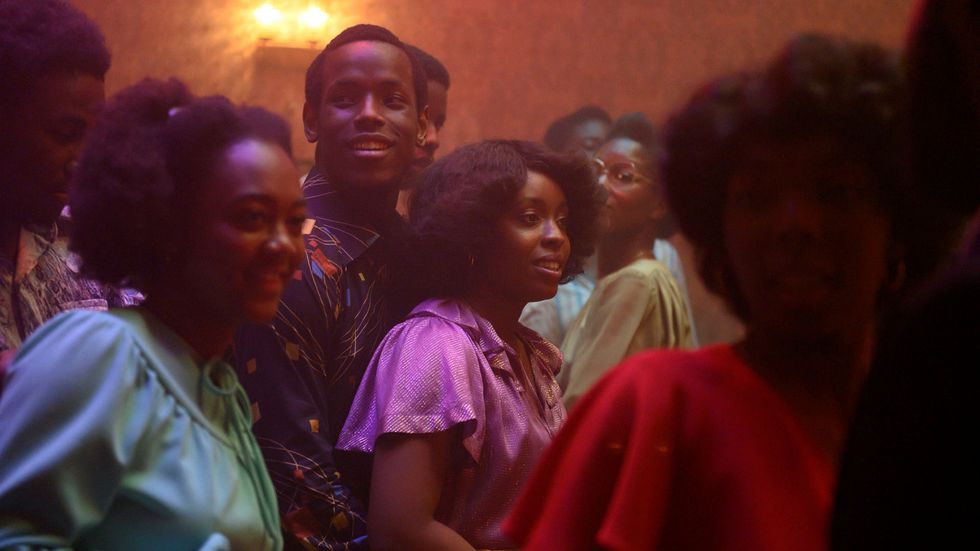 The first part of Steve McQueens 'quintology' of race related British films was the excellent Mangrove, about life amid (police) racism in 1971's West London and concerned the trial of the Mangrove Nine. A group of Carribean immigrants who largely chose to defend themselves in the face of cooked up (no pun intended) charges. It's a fine courtroom drama and is highly recommended.
Part two, in my view, is even better.
Lover's Rock is built on a simple premise.
Init starts with the preparations for a 'Blues Party' in somewhere like Notting Hill in 1980's London before easing gently into the party itself.
It holds little real narrative thread but, instead, somehow manages to convey a feeling of actually being at the party, scripted in Jamaican vernacular that's often hard to follow (for me a white Jock) but it doesn't really matter because, between the combined talents of McQueen and his astounding cinematographer Shabier Kirchner and editor Chris Dickens, we are drawn into an atmosphere that is truly immersive.
You know all those shit dance floor scenes you've seen in a million low budget productions? Well, this has none of them despite the fact that maybe 50% of the action takes place in the wooden-floored front room of a London detached house, with a Sound System crumbling its faded grandeur.
It's monumental, as is the epic (largely) dub reggae soundtrack that suffuses it from the start.
The highlight is the central action around two songs, Janet Kaye's Silly Games and one I confess I don't know that brought the males on the dance floor to a Babylonian moshpit of sorts. (So good they play it twice).
Special mention must also be made for the Carl Douglas', Kung Fu Fighting sequence.
All of this is epic because of the way McQueen's direction oozes through the cramped flesh of the highly tactile dancefloor, sweating out ganja and suffocating in its smoke throughout.
It's a breathtaking and wondrous achievement that will bear repeat viewing.